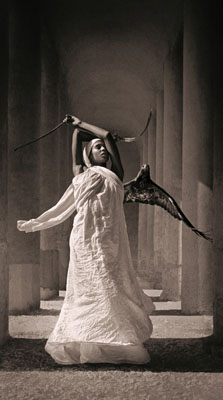 The usual song: I love old magz, they are wonderful when they are great and new. But those that were great, when they get older - oh boy oh boy, thy turn sublime...
One high-end interior design mag that captured my attention then had an amazing photograph on the cover. I still keep it, stashed somewhere in the depths, but never forgotten... The scene was almost difficult to read at first, but I loved everything about it - who wouldn't.
I forgot to search who the cover photographer was.
Today, April Fools, my ignorance is forgiven.
Gregory Colbert
You must see his work because he is absolutely Wow, oh WowWow:
https://gregorycolbert.com/
"Photographer/filmmaker Gregory Colbert is the creator of the exhibition

Ashes and Snow

, an immersive experience of nature that combines photographic artworks, films, and soundscapes, housed in a purpose-built travelling structure called the Nomadic Museum. To date,

Ashes and Snow

has attracted over 10 million visitors, making it the most attended exhibition by any living artist in history.
Colbert was born in Toronto, Canada, in 1960. He began his career in Paris in 1983 making documentary films on social issues. His first exhibition,

Timewaves

, opened to wide critical acclaim in 1992 at the Museum of Elysée in Switzerland. For the next ten years, Colbert went off the grid and did not publicly share his art or show any films. He began traveling the world to photograph and film wondrous interactions between animals and humans."